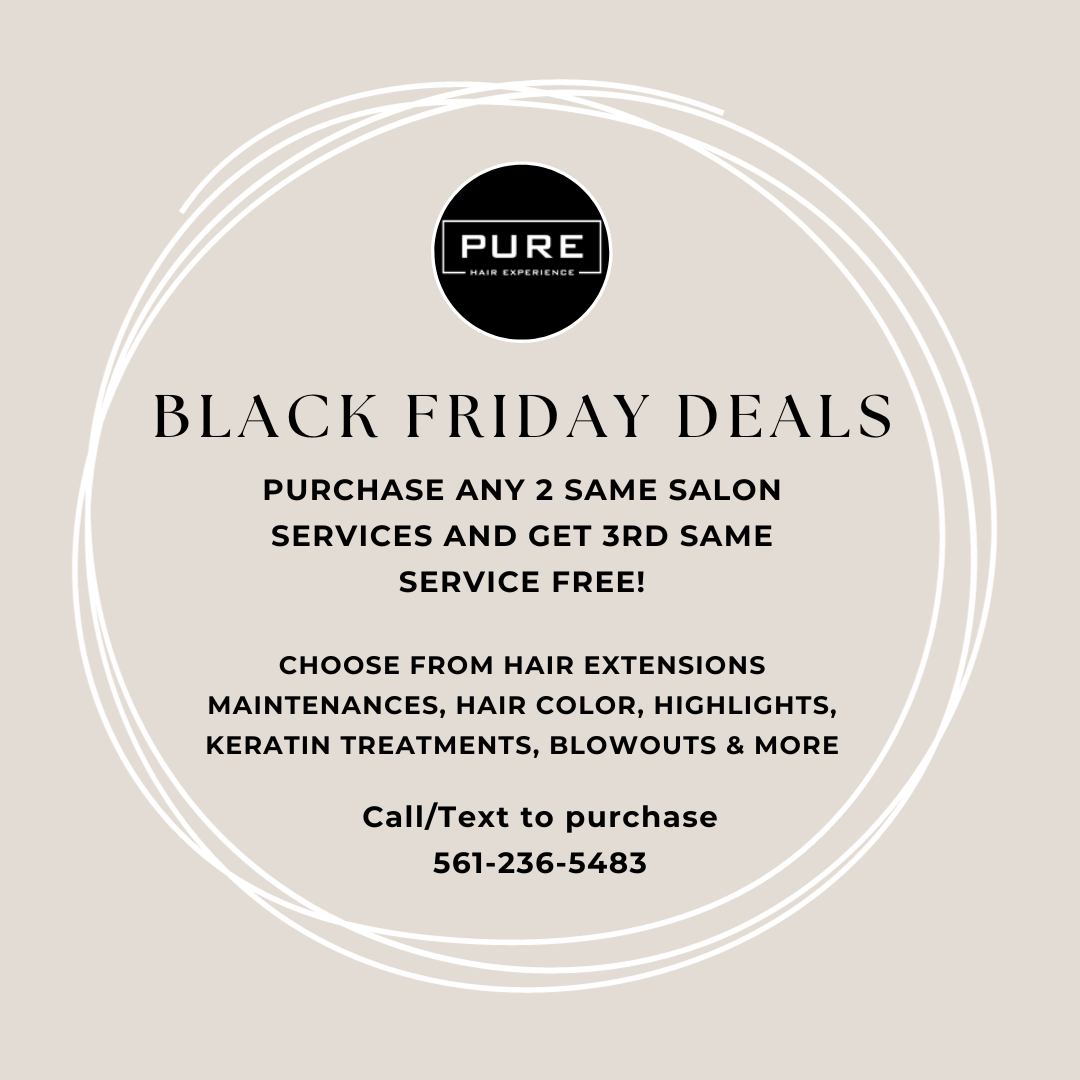 WELCOME TO OUR SALON - Click to play video
BOOK HERE
HAIR COLOR SERVICES

HAIR COLOR

CONSULTATION                               $0.0 BOOK

ROOT TOUCH UP                              $85  BOOK

COLOR ALL OVER SHORT HAIR       $85  BOOK

DOUBLE PROCESS COLOR               $175 BOOK

FULL FACE FRAME                            $70  BOOK

PARTIAL HI/LOW LIGHTS                $140  BOOK

FULL HI/LOW LIGHTS                      $175  BOOK

PARTIAL BABY LIGHTS                      $150 BOOK

FULL BABY LIGHTS                            $250 BOOK

GLOSS/TONER                                  $55  BOOK

ROOTS+TRIM+BLOW OUT                $160 BOOK

PART HI/LOWS +MASK+STYLE         $170 BOOK

COLOR CORRECTION                       $200+ BOOK

OMBRE/SOMBRE                              $200+ BOOK

BALAYAGE                                         $200+ BOOK

FOILYAGE                                          $200 + BOOK

CUT AND STYLE

STYLE HAIR CUT                               $75 BOOK

TRIM                                                  $45 BOOK

BLOW OUT                                        $55 BOOK

TRIM+ BLOW OUT/HEAT STYLE        $70 BOOK

HEAT STYLE FLAT/CURL                    $40 BOOK

SHAMPOO + HAIR MASK                 $40 BOOK

HAIR TREATMENTS

CONDITIONING TREATMENT           $30 BOOK

KERATIN TREATMENT W/HEAT        $150+ BOOK

BRAZILIAN BLOW OUT            $150+ BOOK

HAIR EXTENSIONS TREATMENT       $150 BOOK

WEDDING HAIR & UP DO's

STYLE UP / DO's                                $80+ BOOK
HAIR EXTENSIONS SERVICES

FREE CONSULTATIONS

MICROLINKS CONSULTATION          $0.00 BOOK

KERATIN EXTENSIONS CONSULTATION $0.00 BOOK

HANDTIED WEFT CONSULTATION $0.00 BOOK

TAPE EXTENSIONS CONSULTATION $0.00 BOOK

EXTENSIONS INSTALLATIONS

MICROLINKS INSTALLATION FULL HEAD        $450 BOOK

MICROLINKS INSTALLATION HALF HEAD     $225 BOOK

HANDTIED WEFT INSTALLATION 1 ROW $180 BOOK

HANDTIED WEFT INSTALLATION 2 ROWS $300 BOOK

HANDTIED WEFT INSTALLATION 3 ROWS $300 BOOK

KERATIN TIPS INSTALLATION FULL HEAD $500 BOOK

KERATIN TIPS INSTALLATION HALF HEAD $350 BOOK

HAIR EXTENSIONS MOVE UPS

NEW CLIENT MOVE UP - PRICES VARY CONSULTATION NEEDED BOOK

MICROLINKS MOVE UP 8 WEEKS FULL  HEAD      $280 BOOK

MICROLINKS MOVE UP 8 WEEKS HALF HEAD      $180 BOOK

MICROLINKS BI-ANNUAL MOVE UP/ALL NEW      $350 BOOK

HANDTIED WEFT MOVE UP 1 ROW $180 BOOK

HANDTIED WEFT MOVE UP 2 ROWS $300 BOOK

HANDTIED WEFT MOVE UP 3 ROWS $300 BOOK

KERATIN TIPS MOVE UP $500+ BOOK

TAPES MOVE UP $250 BOOK

EXTENSIONS REMOVALS

MICROLINKS REMOVAL $50+ BOOK

KERATIN TIPS REMOVAL $100+ BOOK

HANDTIED WEFTS REMOVAL $50 BOOK

TAPES REMOVAL $100+ BOOK
WATCH A VIDEO OF HAIR EXTENSIONS TRANSFORMATION
ABOUT OUR HAIR
ABOUT US

Our story Began over 23 years ago, in NYC when our founder Ellia Suncar created hair extensions out of freshly cut hair from an aspiring actress that needed extra funds - That hair was worn over 10 years. Today we are manufacturer of an exclusive luxury line of PURE Organic Hair Extensions nationwide.

Our hair has been tested through tides of time, oceans, chemical processes, blow outs, sweat, kids and more. You can always count on our hair durability and longevity.

Our team of hair scouts is positioned throughout the USA, RUSSIA ans ISRAEL and in constant hunt for the best of the best. The hair is directly cut by our members of the team for quality control and prepared here on location once you choose your Forever Hair. Every hair set is tailored made precisely to your desire - length, thickness, texture, feel.

We added to our inventory Human Remy Hair to fit any budget as well.

We offer almost all hair extensions systems available, and proudly stand by our work, if anything is wrong we fix it no questions asked. Just read our review on google; search Pure Hair extensions. Thousands of satisfied clients over the past couple decades and counting.
ABOUT OUR ORGANIC HAIR

With thousands of satisfied Clients all over the world and some Celebrities, our hair has made it's mark and changing the way women experience Hair Extensions.

Over the past 23 years we've tried numerous "Human Hair" extensions, however the quality of their hair would fade over the course of few months.

The only way to offer the best quality hair was to create our own brand our way.

PURE Hair Extensions were inspired by Nature and Organically created to outlast any Hair extensions in the World. Each Extension is crafted by hand and not the machine & customized for each individual order. Straight, wavy or curly, splash of color, balayage or ombre - your imagination is our command. Each hair strand is 100% Organic, without any added synthetics, or coating. The cuticle and baby hairs are left in tact to preserve the natural look. Amazingly lightweight, these extensions are the easiest to take care of. The hair can be Air Dried in under an hour into gorgeous natural hair style, which doesn't require heat to tame or blend the hair. 

We Completely match texture, color and even the feel of the hair. Each order can take between one to two weeks to complete, therefore Patience is a virtue
ABOUT OUR REMY HAIR

We purchase our Remy Human Hair only from Vietnam - Voted Best hair extensions supplier/factory for the past 35 years with highest production integrity in the industry.

We only order double drawn hair - meaning thick ends - all shorter hair have been brushed out.

The factory stand behind their product and will exchange any product within 2 weeks of you receiving your hair order.

we've received great reviews from our remy human hair collection, plus with 30+ hair color choices - we can blend even the most complex hair color looks.
WHERE OUR ORGANIC HAIR COMES FROM

We source our ORGANIC HAIR in USA, ISRAEL, UKRAINE, ARMENIA AND COLOMBIA.

Majority of the hair comes from young girls that do not smoke, or abuse their hair chemically.  These women are paid generously for their hair, and are Happy to let their locks go.

We manufacture all extensions ourselves by hand, we never use the machines.  That's how we've created one of a kind completely organic hair Extensions  line.

Our team of hair scouts is positioned throughout the USA, and Overseas and are in constant hunt for the best of the best. We do not buy hair from factories, and mostly directly cut by our members of the team for quality control.  We have constant control, we can see the hair in person, make sure its never been chemically processed and healthy. You cannot get that from a factory. The hair industry has been so tainted by Chinese manufacturers who mix their hair with fiber hair and coat it with silicone. Plus, half the time your really have no idea where the hair is coming from. Did you know that there are very little regulations on human hair, you can put 25% of human hair and mix the rest with fiber hair and put 100% HUMAN HAIR label on it. That's just a complete lie. And even the stylists don't know the difference because this is not thought in schools. As a matter of fact, there is so little that thought in beauty schools about hair extensions, that stylists need to learn everything themselves after school. 

We buy hair from young girls, expected mothers, and women that have not colored their hair, non smokers and Who Do Not abuse their hair.

Our team is ready to process the hair upon arrival by thoroughly cleaning it and then preparing by hand into hair extensions. Every hair set is tailored made precisely to your desire - length, thickness, texture, feel. Each hair set is entirely chemical process free therefore it will be in its natural color state. Your colorist can color the extensions before the installation and use the highest professional hair color. 
WHAT IS ORGANIC HAIR

Although its been widely advertised that the Russian hair is the top of the line, the industry has been so poisoned by Chinese manufacturing, that its impossible to find pure product overseas.

Our hair extensions are made of 100% organic human hair, it was never tempered with any chemical process whatsoever a.k.a. coloring perming, cuticle stripping, fabric coloring. We buy hair directly from one person at a time and it could be DNA tested back to that seller. Why is it the best hair, simply because it's from one person and never been chemically treated. The cuticles are all intact, and furthermore aren't mixed with other people's hair's. The advantages of having our hair are: it looks absolutely natural, not stringy, all the pieces are made as they were cut from the seller meaning that all of the natural stages of hair growth are still intact therefore making the hair look extremely natural whether it's styled or just air dried. Now when it comes to drying your hair, it dries relatively quickly within 30 minutes by itself, making it extremely easy to take care of. Depending on the texture of the hair, it has very little to no tangling at all. This is very important because while wearing the extensions you have to style it Etc, and with each styling (blow outs, flat ironing) it could cause breakage to your own hair. Our hair needs little to no styling at all, since it can simply air dry to gorgeous hair without blowing it out and brushing it. This can significantly reduce any breakage to your own hair because it will be very little heat and brushing applied. Hence making PURE extensions the most healthiest.. In addition, the hair is absolutely organic it has its natural tones, and can be colored with ease and no breakage. We tested the hair for over 10 years now, and it still perfectly soft smooth and doesn't tangle. And the beautiful part is the hair can be re used.
HOW TO TAKE CARE OF EXTENSIONS

MAINTENANCE

As the extensions grow out with your own hair, you would need to come back to get them maintained. The normal time frame is 6-8 weeks.

SHEDDING 

Expect some shedding immediately following the installation. Since we make all of our extension by hand it's impossible to brush out all shedding. It will stop after 3rd hair wash, some shedding will continue very minimal and is expected with all extensions in the market.

SLIPPAGE 

Extensions slipping is normal and part of the extensions wearing. We do not charge for slippage or corrections as longmake it to the salon right away. The slippage can be due to too much oil on your scalp or hair product you are using. We can correct some slippage if you come in in time, you let it go we would have to do full maintenance with fee.

BRUSH

What Brush you use is important and can cause slipping or breaking off the extensions. We recommend tangle teezer brush sold on amazon or in store. Any brush that has tiny balls at the ends of the bristles is not recommended.

​When you brush your hair, you want to hold the hair in one hand and start from end move upward. Tilt your head when reaching your scalp so you don't catch the attachments too much. Gently brush through the attachment at least once or twice a week. Always brush your hair before shower for best air-dry results.

SLEEP

Don't sleep with wet hair, loose ponytail or braid is recommended. Silk pillow does stop matting if you are wearing Remy hair. For organic hair you ain't need to follow sleeping tips.

SALT & POOL WATER

If you are wearing Remy hair always wash out any salt or pool water, use extra conditioner when washing your hair and brush your hair after shower. Beware of severe knots from ocean water if you fall asleep without washing your hair. When in the boat, jet ski or motorcycle ALWAYS put your hair in a tight braid. Organic hair will not tangle but Remy hair is guaranteed to tangle severely.

WASH

Wash your hair 2-3 days to make sure the oils don't build up and deep into the links. Use your finger tips to massage between the attachments, avoid nails as they can catch hair.

STYLING

If you have organic hair we recommend to air dry your hair for awesome style and to blend you too hair if needed. Other styling tool such as flat irons and curling irons are recommended with heat protectant, try CHI heat spray. If you must blow out your hair with round brush, use it only once a week as the pulling causes tensions and breakage overtime. With Remy hair double up on heat protectant and detangling non oil based solutions.